There are no fences in the animation director's work field
Animation films by Hungarian Luca Tóth will be seen at the Tampere Film Festival
Luca Tóth has many roles at this year's film festival. The festival will feature a screening of Luca Tóth's own films and a screening of Luca's Choice including films by young Hungarian animators. Tampere Film Festival's communications assistant Mari Jämsén interviewed Tóth before the festival.
Luca Tóth was born in 1989 in Budapest. She studied animation at Moholy-Nagy University of Art and Design (MOME) in Budapest. After that he studied at the Royal College of Art in London. Later, she moved back to Budapest. Her graduation film The Age of Curious (2013) won the Jury Distinction Prize at Annecy International Animation Film Festival 2014.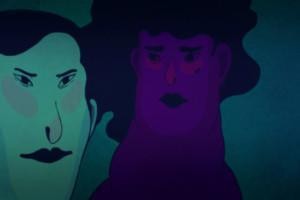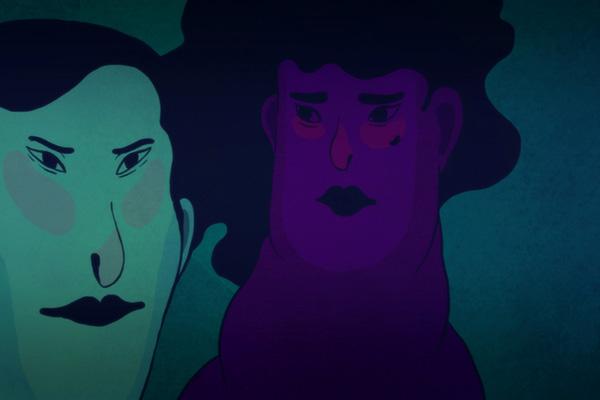 Luca's first professional animation Superbia (2016) premiered at Critics' Week in Cannes in 2016. It was the only animated film in the selection and it got selected into more than 80 international festivals. Luca says it was a huge honour. Major festivals then had the opportunity to see her films for the first time. Luca's latest film Mr. Mare (2019) debuted at Berlinale in 2019 and has been in 90 festivals, winning 12 awards.
Luca remembers watching Hayao Miyazaki's animations as a teenager. She admired many dimensions of characters in those animations.  At that time, she became interested in animation. Luca likes character driven stories and the many ways how characters shape and form in a storyline. That's why she thought she wanted to be an actress. But acting is a form of art in which you expose your body and face all the time and Luca didn't want that. She figured out how much she loved drawing and realized that she really wanted to make films and storylines but without her own face or body showing. The road led to the world of animations where she can keep control for herself.
The world of animation is fascinating. Anything is possible and the ways to show things are endless. There is a connection between a story, a viewer and  characters. So let's continue with ideas, where do the ideas for animated films come from? "I think what inspires me most is humans", Luca says. She doesn't have any special way of getting ideas but what she has found it's that everything comes from the basics of human interaction, for example from conflicts. A very small thing can lead up to something more detailed and something that is on a much larger scale at the end. So stories can often start from very little and then expand around that little thing.
The construct of characters is related to conflicts too. "I usually start with someone in a conflict. If you find a conflict within a person or find a very good conflict between two people, you can combine a story of it." For example, in Luca's latest short film Mr. Mare (2019), there is a guy who really craves attention from another person and he is obsessively in love with him. But at the same time, he is very hidden and hiding out. And that is a conflict on its own. It's something you really wish for but aren't able to do. That's a point where the character is really conflicted. So once again a whole story intertwines around conflict.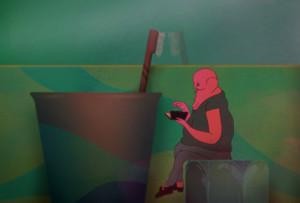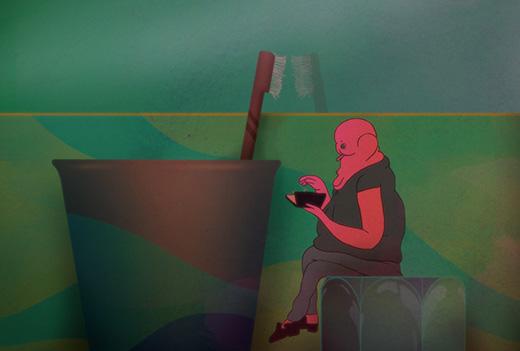 Colours are a very important part of all movies but especially in animations, they tend to be a really important way to show feelings and moods. In Luca's animations there are very powerful colours which kind of slide from one scene to another. Luca says that when she writes, she doesn't think about the colours. But as the creation process is going forward and drawing begins, colours also begin to find their places. But it's not something she does very consciously. She just finds the right colours for certain aspects or moods of the film. And when she starts to find them, she writes a colour script of how the characters are moving and changing. And slowly, not necessarily in a harsh way, the colours of the whole film can change.
The sound world of Luca's animations is very fascinating too. Luca tells she works with sound designer Péter Benjámin Lukács and she has been blessed with very talented co-workers who make beautiful sounds and beautiful music. She said with a laugh that she controls everything, but when music and sounds come into the process, she always tries to let go a bit. "This is in the filmmaking usually the moment I allow the control to be out of my hands. But I obviously tell them if I don't like something, and we brainstorm together because I like their creativity flow."
An important part of creating any kind of art is throwing unfinished things away and redoing some parts several times. Luca said it happens a lot and it's important especially at the beginning part of creating a story. A storyline can go towards certain aspects that you at some point notice that you don't want to focus so much. If that happens a lot during the animation part, that's painful, Luca laughs. But luckily that rarely happens.
"It doesn't frustrate me. It's just a part of the deal in the creation process. Actually it's part of the playfulness of it. It's more joyful if you make mistakes, fearing mistakes is one of the worst things you can do. It's just like when children are running around a playground and they fall. It's almost as exciting to them to fall as to climb a tree. It's part of the game to stumble."
To the question, what is Luca's strength as being an animation director, Luca answered that her it may be empathy. For example, when writing a story and especially its characters, she tries to think of them as fully human beings regardless of whether the characters are good or not. She doesn't hate or demonize characters. But also she doesn't want to make them super flawless and is always concerned about having a character multidimensional enough.
"I always try to form in a way that is something new and, in a way, very emotional and very deep. I just try to be as honest as I can or as authentic as I can be. Maybe that is what brings some sort of succession."
Luca says she always likes the latest of her own work most and can barely watch the other ones. She is the biggest critic of herself and she wants to level up or improve herself. She always imagines it not going to happen but then she realizes it usually does. At the moment, it is difficult to get funding for making animation films in Hungary, so Luca said that making a new animation right now is not topical. But he is not taking pressure from it now.
What comes to thought that artists always put something from themselves in pieces of work Luca agreed. She doesn't think that a film can be good if it doesn't reflect something of its makers. It's really a filmmaker's universe, so it's her judgment there about characters. But of course: "Making animations or any sort of art is very personal and most of the artists have personal touch to it", says Luca.
Luca thinks both live action and animations have their own strengths. Of course animation gives a whole load of freedom but at the same time, it might bind their makers a bit because it's hard to animate all feelings. Even a little change in face or facial expression can mean a lot. Sometimes it would be easier to do something with live action characters. Easier way of showing emotions is the strength of live action, although it depends entirely on the performance of the actors, how the emotions that are central to the story can be expressed.
"You can never underestimate the power of the human face. I also think that because animation is so free and it's so endless what you can do with it, people sometimes find it very anxiety provoking because there is too much freedom. There are no limits. So it's how you find your own boundaries there."
The question arises whether animation art is always taken seriously. Often people like animations, but according to Luca, underestimation happens all the time. Many people think that animations are just for kids. Underestimation is, of course, typical of all art that is not part of the mainstream. Artistic animations are not very well known, and thus people have a very weird tendency to think about them in other terms than art. Today, however, animations have become trendier in Hungary. There are quite few young animation directors, who have shown their talents. But in terms of funding, animations are really undervalued.
In addition to Luca's own animations there is the screening of Luca's choice at Tampere Film Festival. She wants to present some Hungarian animators. Some of them are more famous, some of them just came out from school. Luca wants to show what kind of mentality the Hungarian animation community represents these days. Films have a bit of weird humour, and they are all playful in a sense and at the end quite skeptical. "This whole generation, I think, has a very unique way of approaching filmmaking and I wanted to portray that."
Luca is also experienced in festival juries. She said she really enjoys it and it's also an honour to be a member of the International Competition jury in Tampere Film Festival this year. Watching the films and discussing those with other jury members is fascinating. And Luca said it's something you always learn from.
"Going to a festival with that purpose is actually making you widen your horizon in other people's perspective of the films. It's always very nice."
Luca says that the pandemic situation didn't hit the animators as much as it did to any other profession related to filmmaking. Animators can do pretty much the same things at home as in workplaces. But naturally she feels a general low mood from the recent changes of the world. Luca said about her current work situation that she's writing a very long story but actually doesn't know what it's going to be. And she isn't necessarily thinking about animation right now but more of storytelling. Other than those she works on other people's films, animates a lot and does little projects, also music related.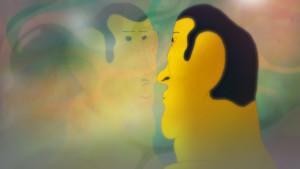 Those who hesitate to go to watch animations, Luca wanted to say that animation can surprise. It opens a wide range of possibilities to look at the world. Luca is coming to Finland during Tampere Film Festival, and she is really looking forward to it. He heard about Tampere during his studies. "I was shown on a map where the city is located. Since then, I have thought that I must go there sometime." Luca is also waiting for a sauna. There should be good opportunities to do that, because Tampere has the largest number of public saunas in Finland and has declared itself as Sauna Capital of the World!
Thank you for the interview Luca!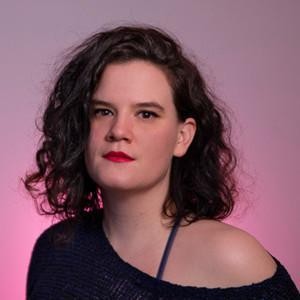 SCREENINGS

Luca Tóth
Friday 11.3. 19:45, Cine Atlas 2
Saturday 12.3. 14:00, Niagara

Luca's choice
Friday 11.3. 21:45, Cine Atlas 2
Saturday 12.3. 16:00, Niagara

Text by Mari Jämsén

​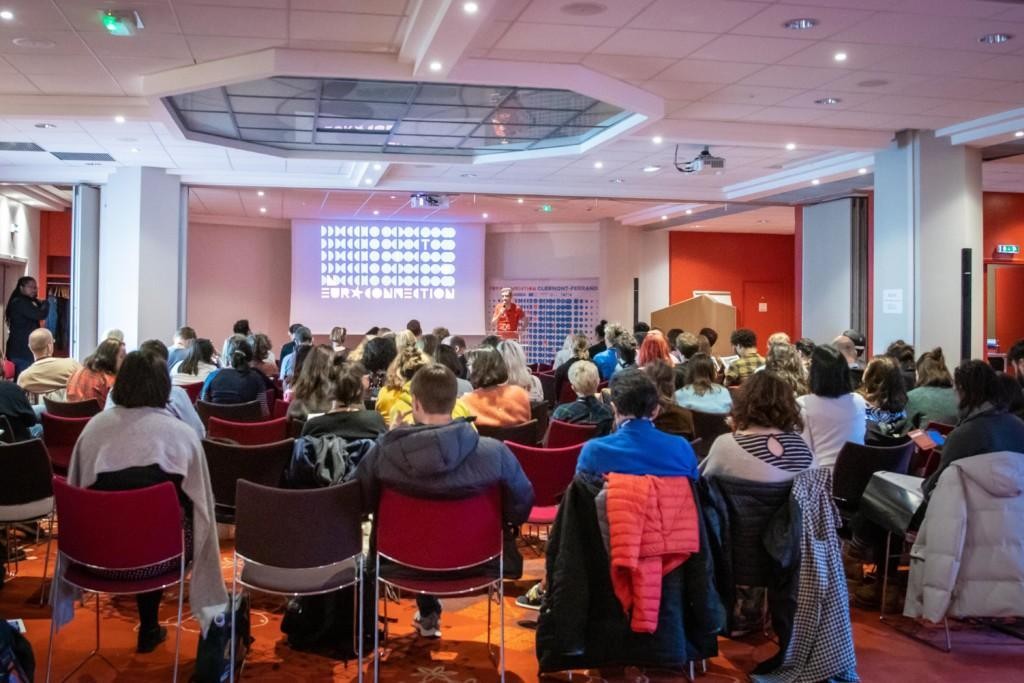 Tampere Film Festival seeks projects for Euro Connection as a national correspondent. Euro Connection is a co-production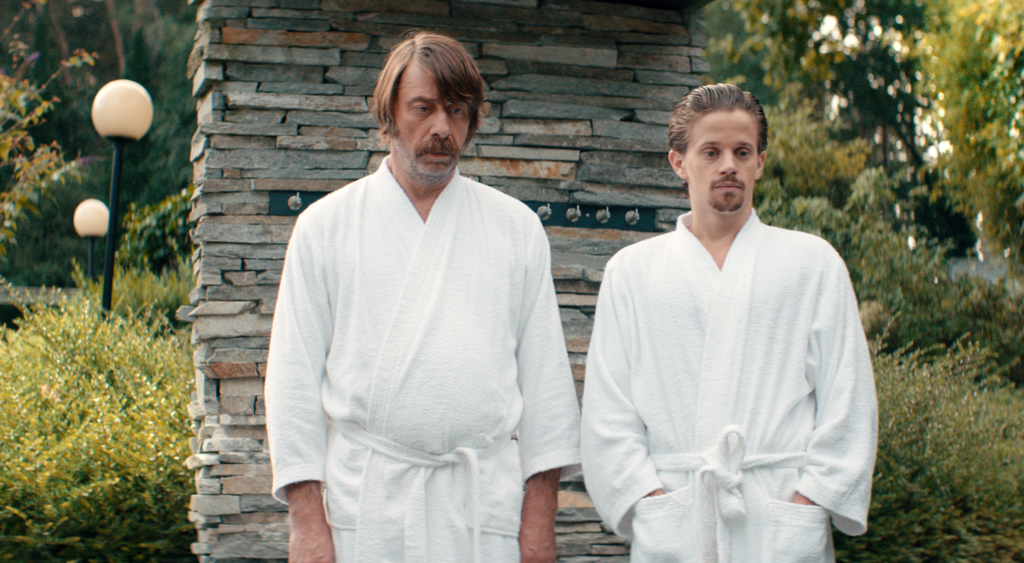 Tampere Film Festival's team is on summer vacation and the office is closed. We are back in