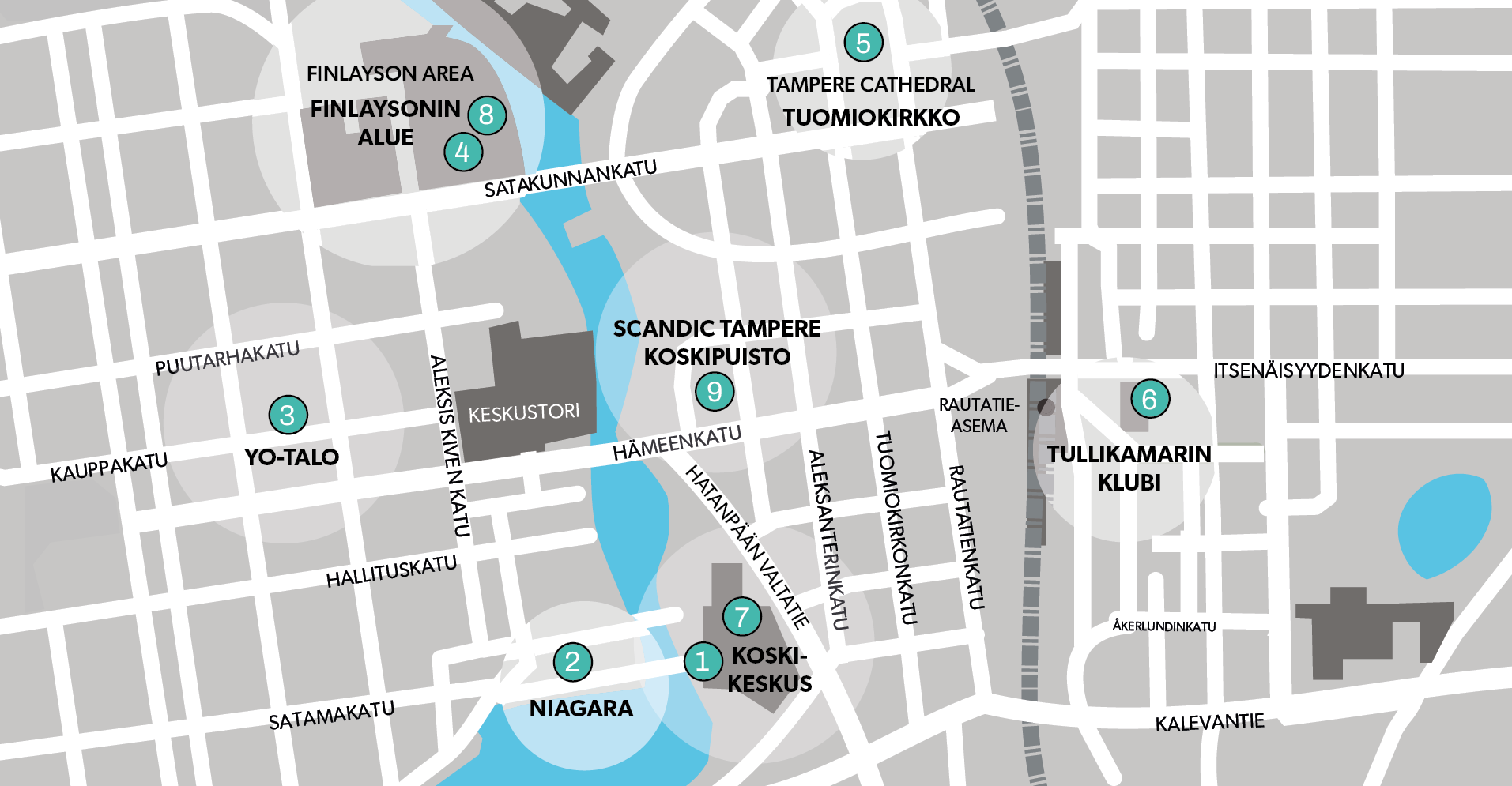 1. Cine Atlas
Koskikeskus Shopping Centre, Hatanpään valtatie 1
Ground Floor
2. Arthouse Cinema Niagara
Kehräsaari B
3. YO-talo
Kauppakatu 10
4. Väinö Linna square
Väinö Linnan aukio, Finlayson Area
5. Tampereen tuomiokirkko (Tampere Cathedral)
Tuomiokirkonkatu 3b
6. Tullikamarin Klubi
Tullikamarin aukio 2
7. Festival Shop
Koskikeskus, Hatanpään valtatie 1
1. floor, central square
8. Festival Centre: Guest info, Stage, Factory
Väinö Linnan aukio 13, TR5 (Vooninki)
9. Hotel Scandic Tampere Koskipuisto
Koskikatu 5
KOSKIKESKUS, CINE ATLAS, FESTIVAL SHOP
ARRIVAL
By foot

The main entrance to the festival is the entrance of Koskenranta.
By bicycle

There are bicycle parks in Koskenranta, on the corner of Suvantokatu, on Suvantokatu and on the Hatanpää highway (consider winter conditions; some of the bicycle parks may be out of use).
Public transport
The distance from the railway station to Koskikeskus is about 300 m. The distance from the bus station to Koskikeskus is about 150m. Nearest stops of Tampere Local Transport (TKL) are Koskipuisto and Sorinaukio.
Accessibility
Shopping Center is accessible from every entrance. There are ramps at the entrances to Koskenportti, Sorinportti and Koskenranta, which can be reached without barriers, and there is a lift at the entrance to the Otavala tunnel. It is also possible to move inside the shopping center using elevators. More info
The taxi arrives at the corner of Hatanpäänkatu and Suvantokatu. Free, accessible parking spaces (3) are located on Suvantokatu.
By car
You can park your car in the parking garage, P-Koskikeskus. The entrance to the parking garage is from Suvantokatu. Parking is available in the garage for a fee.
There are four electric car charging points in Koskikeskus' parking garage.
https://www.koskikeskus.fi/parking
PUBLIC TOILETS
Free toilets are located on the 0th, 1st and 3rd floors. Accessible toilets are located on the 0th and 1st floors.