LA 12.3. | 10:00–13:00 | FESTIVAALIKESKUS; STAGE | ENGLANNIKSI | ENNAKKOILMOITTAUTUMINEN
AKKREDITOITUNEILLE VAPAA PÄÄSY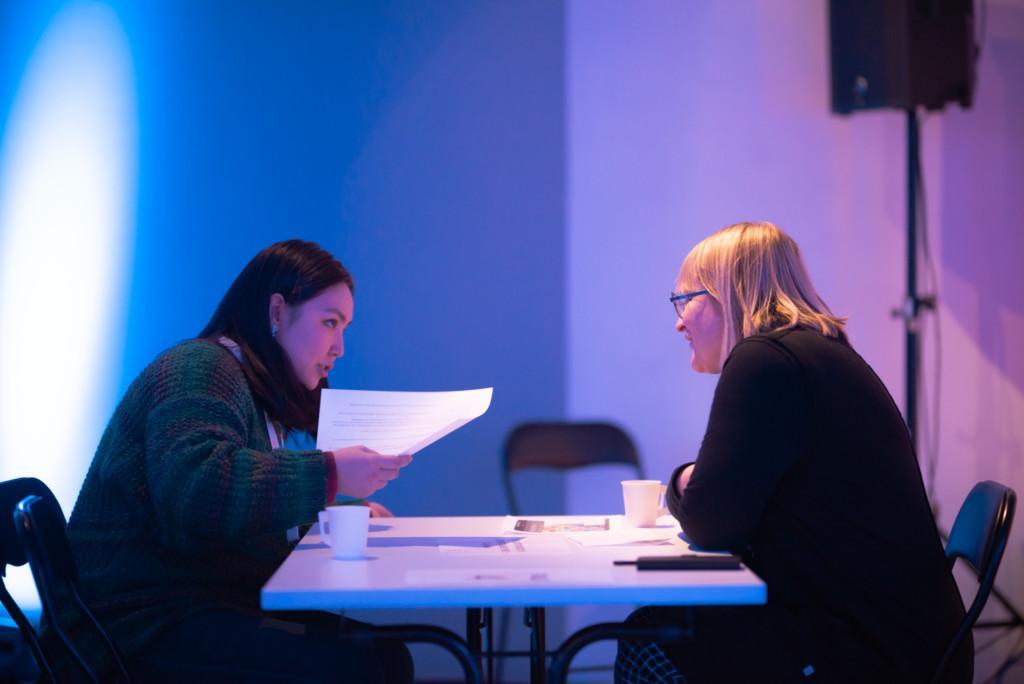 Kuva: Anna Fransas
Onko sinulla elokuvaprojekti, mutta et tiedä miten hankkisit sille rahoitusta? Tai haluaisitko elokuvallesi levittäjän, mutta et tiedä miten se olisi mahdollista? Oletko kiinnostunut elokuvasi ilmoittamisesta festivaaleille, mutta et tiedä mihin? Jos vastasit kyllä yhteenkään näistä kysymyksistä, Consulting Sessions -tapahtuma sopii juuri sinulle!
Tilaisuudessa osallistujat pääsevät keskustelemaan eri elokuva-alan ammattilaisten ja asiantuntijoiden kanssa.
1. Sessio on klo 10:00–11:00 ja paikalla on viisi asiantuntijaa. 2. Sessio on klo 11:30–13:00 ja paikalla on kuusi asiantuntijaa. Molemmissa sessioissa on mahdollista jutella 10 minuutin pätkissä spesialistien kanssa. Tapaamiset tapahtuvat vain paikan päällä.
Nyt sinun on mahdollista valita, kenen kanssa haluat jutella alla olevasta listasta. Täytä ilmoittautumiskaavake ja täytä tietosi. Voit osallistua yksin tai toisen elokuvantekijän kanssa. Vain 1-2 osallistujaa vuorollaan. Voit valita yhden tai useamman spesialistin.
Ensimmäisessä sessiossa asiantuntijoilla on vain 6 tapaamiskertaa ja toisessa 9 tapaamiskertaa. Kun jonkun spesialistin aikataulu tulee täyteen, ilmoittautumiskaavake suljetaan. Muuten ilmoittautuminen on auki pe 12.3. klo 18.00 saakka. Voit kysyä vapaana olevia aikoja tapahtumapäivänä paikan päältä klo 9.30 jälkeen.
Tapahtumanjärjestäjä lähettää sinulle aikataulun pe 11.3. klo 22.00 mennessä.
Spesialistit ovat:
Sessio 1  klo 10:00–11:00:
Sessio 2 klo 11:30–13:00:
Asiantuntijoiden esittelyt:

Sari Ilmola,
special advisor
Arts Promotion Centre Finland / Taiteen edistämiskeskus
Special advisor in films and media art.
I can tell You our grants and subsidies:

Grants are awarded to individuals and working groups formed by them (finnish or live in Finland).
Subsidies are awarded to registered and legal finnish communities, such as associations and companies.

Artists and communities are welcome to talk with me.
Fransiska Prihadi,
program director of Minikino Film Week, Bali International Short Film Festival. Our 8th edition will be on 2-10 September 2022. Besides the annual international short film festival, Minikino also runs a year round short film festival which is Minikino Monthly Screening & Discussion since 2002. As program director, I work with the programming team for the film festivals and also other educational and short film industry related programs. I can help filmmakers with information and suggestions of film festivals that might be interested with their stories, especially in Southeast Asia and East Asia.
Ben Vandendaele
Bio: Versatile producer, sales agent and distributor. He's based in Brussels where he studied film editing at the Rits School of Arts. He is the founder of two companies: the production company Bekke Films and Radiator IP Sales with which he represents, distributes and sells a total of 150 short films and several feature films to date. The films have been selected for multiple international film festivals, including Berlinale, Cannes, Clermont-Ferrand, Sundance, SXSW, Locarno, Venice … Member of European Film Academy. Alumni of Berlinale Talents and Zurich Master class.
Tim Redford
Clermont-Ferrand International Short Film Festival, France

Co-director / International coordinator
 I'm happy to talk with filmmakers about our festival, our programming, our selection process, what kind of films we look for, submission strategies…
Piia Nokelainen,
tilaaja-tuottaja
The organisation you represent: Yle
What do you do in the organisation:  vastaan elokuvatiimissä pitkien fiktioelokuvien hankinnasta, pois lukien lastenelokuvat ja kansainväliset yhteistuotannot, joissa on suomalainen osatuottaja
How can you help the filmmakers: kerron mielelläni Ylen elokuvatiimin pitkien fiktioelokuvien hankintojen lähtökohdista ja prosesseista
Who should come to talk with you: tervetuloa kaikki, jotka ovat kiinnostuneita Ylen elokuvatiimistä, sen hankintojen lähtökohdista, prosesseista yms.
Jenny Luukkonen,
Jenny Luukkonen is Talent, Short format and Documentary Officer at Film i Väst, Sweden. She co-produces short film and feature documentaries, but also feature debuts as well as running several talent schemes. At the festival, she can give you feedback on strategies concerning financing, positioning, distribution, and overall development of your project. If you are a producer, scriptwriter, or director – come and talk to her.
Petri Kemppinen
has over 30 years of experience in the audiovisual sector, journalism, publishing. Currently CEO at Aurora Studios, he has through his career worked internationally with financing, production and development, in several roles within film and TV.
Prior to Aurora Studios, Kemppinen worked as an independent consultant and between 2013 to 2019 as CEO of the pan-Nordic funding body Nordisk Film & TV Fond in Oslo. There, his credits as a financier include more than 50 TV drama series like Cry Wolf, Paradise, Trapped, Occupied and The Thin Blue Line and 150 films like The Border by Ali Abbasi, The Happiest Day in the Life of Olli Mäki by Juho Kuosmanen, Woman at War by Benedikt Erlingsson, Queen of Hearts by May el-Toukhy and Worst Person in the World by Joachim Trier.
In Aurora Studios he is co-producer in the upcoming drama series Mobile 101 and The Invincibles. He has been the Finnish member of Eurimages' Board of Management 2006-2013. His past employers include The Finnish Film Foundation and YLE The Finnish Broadcasting Company. He is a frequent expert at European audiovisual training programs such as EAVE.
His trustee positions include being a board member at the Swedish Film Institute (since 2019) and European Women´s Audiovisual Network (since 2020). He is also a member of the European Film Academy.

Sari Volanen
is a commissioning editor at Yle (Finnish Broadcasting company). She works at Yle's  Film Team producing short films mainly with Finnish independent filmmakers and producers.  She is in charge of a strand called "New Cinema" on Yle Teema channel. The main focus of New Cinema is on cinematic, surprising, original and quirky films. The films in the strand are acquired through co-productions (main producer Finnish), prebuys (international) and acquisitions.  If any of this is interesting to you, come to say hello.
Andy Norton
– Head of Raina Film Festival Distribution
Raina is a Helsinki-based company providing a professional, dedicated & tailored festival distribution service for high-quality documentary & short films.
We offer:
a festival distribution strategy which includes analysis of your film's strengths, potential premieres & audience & an extensive festival release & submission plan
the pitching & submitting your film to festivals around the world
attendance at key industry events to pitch and promote your film
delivery of materials to festivals
promotion on social media
help in identifying & arranging possible non-festival screenings
So if you are a filmmaker with questions about getting your film into festivals, come & talk to us!

James Berclaz-Lewis
I work for the Neuchâtel International Fantastic Film Festival (NIFFF, Switzerland), one of Europe's leading events dedicated to genre cinema for more than twenty years, where I am the programmer for the national and international shorts as well as the NIFFF EXTENDED cycle of conferences. More than happy to talk with any filmmakers with current or upcoming fantasy, horror or science-fiction projects for this year's selection (or the next!)

Lorenza Tuan,
Acquisitions Executive for ShortsTV.
Shorts International is the first 24/7 HD TV channel dedicated to short films with the longest track record in the industry and with the largest global catalogue, and for 16 consecutive years STV has been distributing the annual theatrical release of the Oscar Nominated Short Films.
With a global distribution in over 130 million+ households (2 premium TV channel brands, 2 FAST channel brands and SVOD on Amazon Prime Channels) covering the Americas, Europe and India, I am always in the lookout for quality filmmaking to acquire for our territories and fit our global programming and localised content requirements. So if you have a finished (or nearly) film please come for a chat!